Murray Rose Malabar Magic Ocean Swim 2016
Raised So Far
$45,041.60
Help us raise vital funds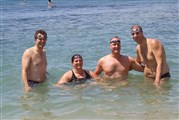 Catriona Barry

Expires
Thursday, 19 January 2017
Magic Patrons
'Magic Patrons' is a team made up of Daniel Kowalski, James Pittar, Louise Sauvage and Mark Speakman - We're all patrons or ambassadors of Rainbow CLub - the NSW charity that helps children with a disability learn to swim. 'Magic Patrons' are competing in the Malabar Magic Ocean Swim on Sunday February 21, 2016.
It costs approximately $360 per school term to give a child the individualised lessons that make it easier for them to learn to swim, these lessons also provide an affordable weekend activity for a family who have a child with a disability.
We're 'Paying it forward' by raising money for Rainbow Club and with reaching our target of $7,200 - it will provide 20 children in the program access to swimming lessons for one term.
Please sponsor us to swim this year's 'Magic' 2016. By sponsoring this team you will be supporting an Olympian, a Paralympian, the NSW Minister for the Environment and a blind long distance marathon swimmer.
Follow our progress on Facebook, Twitter and Instagram @swimtherainbow for updates and latest news!
Any contribution great or small is appreciated. Please show your support with a secure online donation - click on DONATE NOW!
Thanks for making a difference.

Rainbow Club Australia Inc
Rainbow Club Australia provides swimming lessons for children with a disability.
Please make sure you are LOGGED IN. You can only join a Team Leader page if you are logged in and have an Individual page created. If you do, it will be displayed here once you've logged in. If you don't, please return to the 'home page' and follow instructions on how to create your Individual page.
FUNDOMETER
Target
$7,200
Raised So Far
$3,308
Target
$7,200
Raised So Far
$3,308
Team Members
My Total: $3,308
Team Total: $3,308.45
Biggest Supporters:
Gary Bradshaw: $1,592.45
Mark Speakman: $300.00